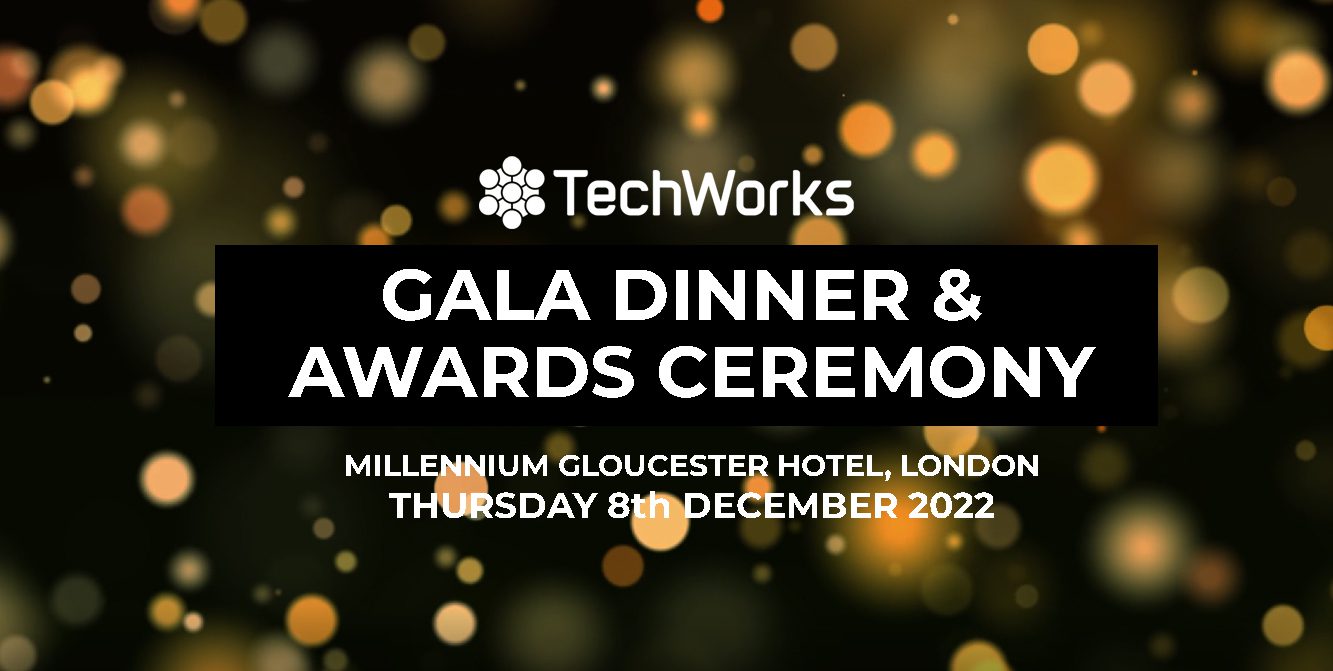 We are delighted to announce that our annual TechWorks Awards & Gala Dinner will be held on Thursday 8th December 2022, at the Millennium Gloucester Hotel, London.
The event brings together hundreds of executives & professionals from across industry, providing an excellent opportunity to network with industry leaders, meet new clients or host existing ones whilst building brand awareness. At the dinner, we announce the winners of the TechWorks Awards – celebrating achievements & behaviours conducive to a healthy & vibrant tech-industry.
This years Guest Speaker and Awards host is Paul Sinha who made his name on ITV's hit quiz show, The Chase, where his quick wit and intelligence is highly popular with audiences. It is on the comedy circuit though that Paul comes into his own.
Apply for an award
The TechWorks Awards provide a fantastic showcase for excellence in the fast-paced tech industry – celebrating achievements & behaviours conducive to a healthy and vibrant industry. The 2022 awards are NOW open with award categories to fit all individuals and organisations active within the tech industry. All awards are completely FREE to enter, with a quick and simple online process.
This year, the awards are split into three main categories and are designed to suit individuals, companies and organisation across the entire tech industry. They have historically attracted an impressive number of entries showcasing some amazing tech propositions. The 2022 Categories feature a strong range of awards from Innovation, Engineering, Manufacturing and Cybersecurity to Research Excellence.
Alan Banks, CEO, TechWorks commented, "Our Annual Awards are designed to be as inclusive as possible for both organisations and individuals across the tech industry. We are always delighted with not only the volume but the quality of entrants for the awards and we are looking forward to reviewing this year's applications.
The awards have uncovered some truly ground-breaking businesses and inspirational individuals and we are looking forward to meeting many of the short-listed applicants and celebrating the Industry's best at our gala dinner."
Applicants are invited to submit their FREE online entries – the closing date for entries is Friday 30th September.
To apply for the IoT Security Champion Award follow THIS LINK.
To find out more about the event and all of the awards – please visit the dedicated Awards website.