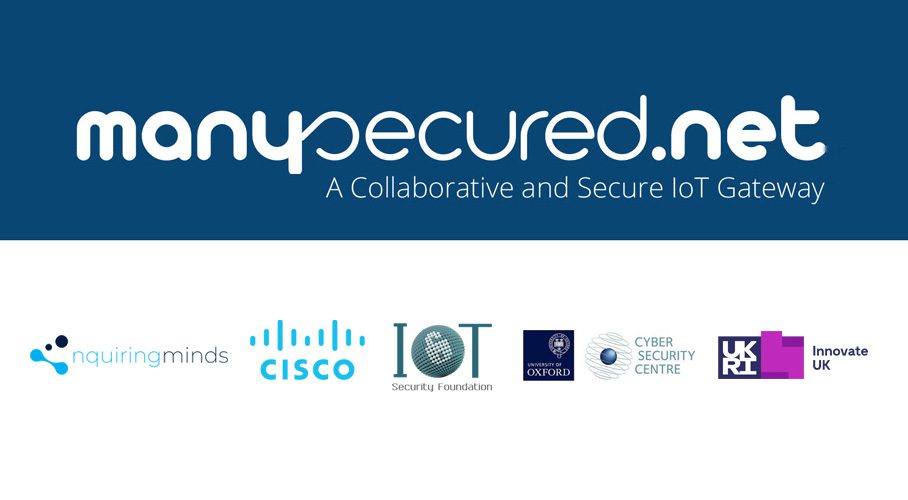 ManySecured Workshop: Securing the IoT Network with Collaborative Analytics
17th May 2022 @ 9:30 am

-

4:00 pm
With millions of unsecured IoT devices connecting to insecure gateways and routers in homes and businesses, this means there are many vulnerabilities creating significant risk.
ManySecured is a collaborative industry initiative, looking to mitigate this problem with fundamental innovation at the gateway level.
By defining data sharing standards, APIs and best practice, ManySecured provides the tools to protect, detect and respond to security threats, at scale.
This event will highlight the following:
Learn about new foundational secure router technologies
Gain hands on experience: build, setup and configure your ManySecured router
Test your devices: bring along IOT devices for live testing and integration
Attendees will be given their own PI based ManySecured router to take home, and experiment with after the event
The ManySecured Gateway Project is a collaborative project co-funded by Innovate UK, the UK's innovation agency partnered by nquiringMinds, CISCO, University of Oxford Cyber Security Centre and the IoT Security Foundation.
This is a free event and spaces are limited. We recommend you secure your space early
Find out more about ManySecured here
Agenda
9:30      Registration & refreshments
10:00    Introduction
10:10    ManySecured concepts: understanding the problem
10:35    ManySecured routers: technology stack
11:00    Break
11:20    Distributed Device Descriptors (D3) |A secure unifying language for sharing data about IoT devices
12:00    Advanced analytics techniques for IOT security analysis
12:30    Lunch
13:30    How to: Setting up your router
14:00    How to: Configuring & monitoring your devices | Analysing and presenting the data
14:30    How to: Writing your own D3 statements | Building a community | Collaborating on security analysis & response
15:00    Discussion and feedback
16:00    Close
Share This Story, Choose Your Platform!