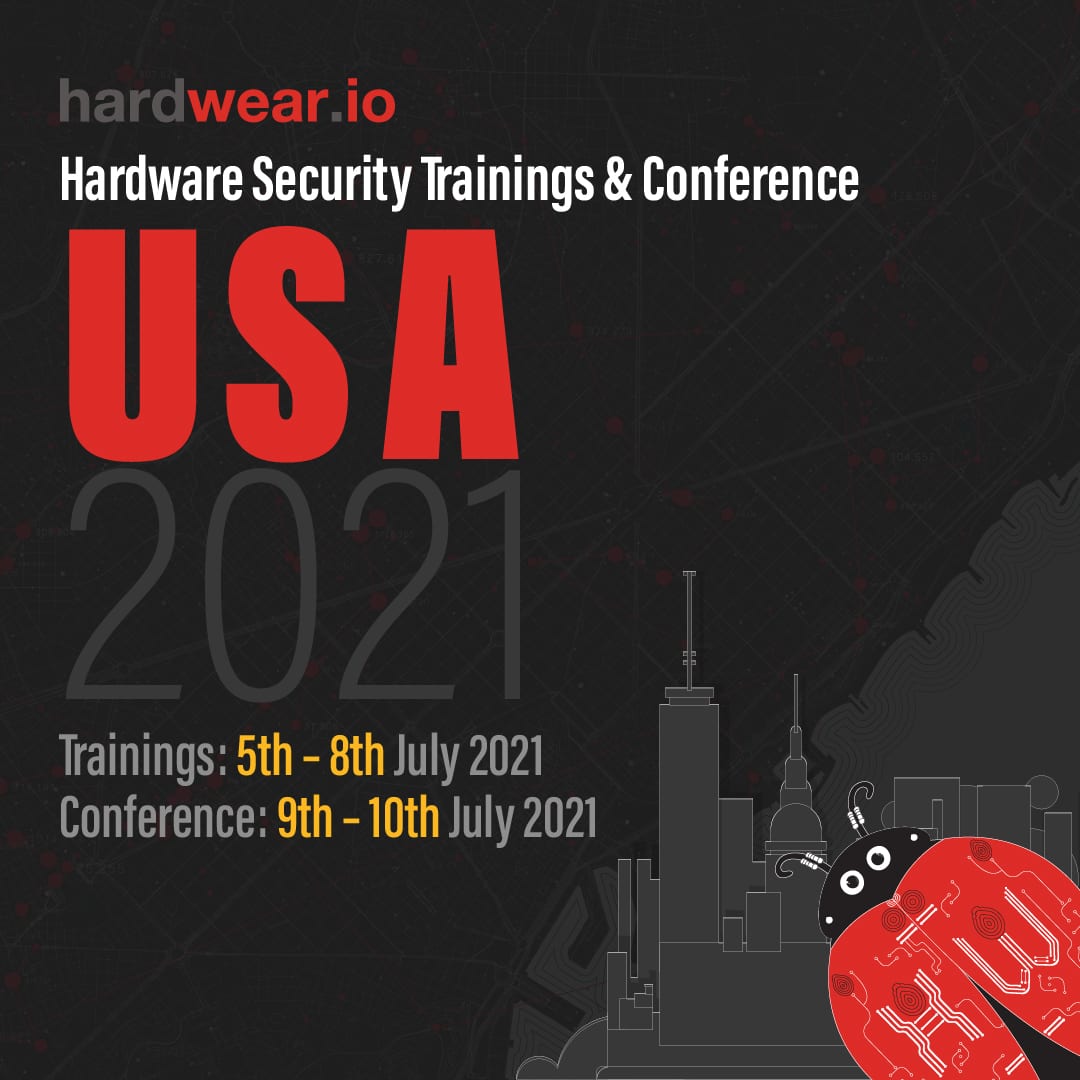 Promoted Event: Hardwear.io Security Trainings & Conference USA 2021
5th July 2021

-

10th July 2021
About this event
Hardwear.io Security Conference and Training is a platform for hardware and security community where researchers showcase and discuss their innovative research on attacking and defending hardware.
The third hardwear.io – USA edition will include practical 4-Days online trainings and 2 days conference includes technical Talks, CTF & Fixup networking event.
For more information, visit: https://hardwear.io/usa-2021
Training Date: 5-8 July 2021 | Time: 9:00am to 2:00pm PDT
Conference Date: 9-10 July 2021 | Time: 9:00am to 1:00pm PDT
Training List
Assessing and Exploiting PLCs by Justin
Protecting the CAN bus by Ken
IC Reverse Engineering Code Dump by Olivier
Optimizing crypto on embedded microcontrollers by Peter Schwabe
Reverse Engineering Firmware with Ghidra by Eric
BootPwn: Breaking Secure Boot by Experience by Niek & Cristofaros
EMFI and Voltage Fault injection attacks with Raiden by Grzegorz & Adam
Keynote Speakers:
Prof. Yongdae Kim, Department of Electrical Engineering at KAIST
Colin O'Flynn, C.T.O. of NewAE Technology
Conference Talks: 
Jiska Classen: Interacting with *OS hardware from user space
Andrew Zonenberg: Boost your hardware reversing with glscopeclient
Ta-Lun Yen: Enabling dynamic analysis of Legacy Embedded Systems in full emulated environment
Joshua Beaker: Proving the efficacy of software countermeasures for fault injection
EXCLUSIVE IoTSF DISCOUNT: use COMMUNITY5 for 5% discount on training
Share This Story, Choose Your Platform!