Solution enables devices to be easily and securely integrated with IoT Cloud Platforms, speeding time to market and ensuring device security
Icon Labs' Floodgate IoT Security Toolkit includes integration with Verizon's ThingSpace IoT Cloud Platform
---
 November 17, 2016
West Des Moines, IA – Icon Labs (www.iconlabs.com), a leading provider of security solutions for IoT and edge devices, today announced its Floodgate IoT Security Toolkit. The solution enables IoT edge devices to be easily and securely integrated with IoT cloud platforms, including Verizon's ThingSpace IoT Cloud Platform, and provides security management for remote IoT devices from a single user interface.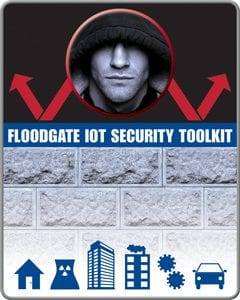 The new Icon Labs Floodgate IoT Security Toolkit provides connectivity to the cloud platform over a secure communication link for both normal device operation and for security management. The solution includes critical security countermeasures to protect the device from attack, intrusion detection to identify when the device is being attacked, and security management to respond to attacks.
Alerts from the intrusion detection module inform the user of security anomalies. These alerts are sent to the security management systems, allowing changes to security policies to be pushed out to each device in real-time.  The management system also supports software updates to be securely transmitted and installed, all using the same management interface.
Critical security countermeasures included are secure boot, encrypted communication, an endpoint firewall, and mutual authentication based on PKI certificates.
"Security concerns are consistently cited as one of the major issues impeding IoT deployments," says Alan Grau, President of Icon Labs. "This solution provides designers an interactive and scalable drop-in security solution that protects IoT devices from the growing threat of cyber-attacks. Icon Labs' Floodgate IoT Security Toolkit provides robust and easy to implement end-to-end security management for IoT devices – allowing a client application to harden and manage endpoints from the cloud."
The Floodgate IoT Security Toolkit is the industry's most complete security platform for IoT devices, providing a full suite of device protection, secure credentialing services, and integration with IoT cloud services.  The toolkit includes the following Floodgate Security Framework elements: secure boot, secure software updates, firewall, intrusion detection, MQTT, TLS, key management/SCEP, and a management agent.
This solution is available today and has been integrated with Verizon's ThingSpace IoT Platform and Verizon's IoT Secure Credentialing Servicer (IoT SC), and demonstrated on the Renesas Synergy platform from Renesas Electronics America, Inc. The Floodgate toolkit supports any embedded OS including embedded Linux, Nucleus, ThreadX, UC/OS-III, LynxOS, VxWorks and other RTOSes.
---
About Icon Laboratories, Inc.
Icon Labs, a 2014 Gartner "Cool Vendor" and 2015 Gartner "Select Vendor", is a leading provider of security solutions for IoT and embedded devices, including the award-winning Floodgate Defender and Floodgate Security Framework. Founded in 1992, Icon Labs is headquartered in West Des Moines, Iowa. For more information, visit www.iconlabs.com.