Encourages industry use 'with immediate effect'
---
Release Date: December 6th 2016
The Internet of Things Security Foundation (IoTSF) has announced the publication of its IoT Security Compliance Framework at its annual conference in London.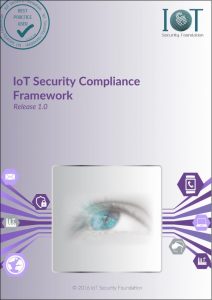 The framework is part of IoTSF's mission to drive the quality and pervasiveness of security in IoT. IoTSF is promoting the Supply Chain of Trust concept which encourages producers to adopt a duty of care for their own customers and towards the wider eco-system. This is necessary because poorly secured connected products may provide a vulnerability point to attack the system elsewhere such as in a denial of service attack.
The framework provides a comprehensive and practical checklist to guide organisations through a security assuring process. It offers a methodical approach to determining an organisation's unique security posture for both business processes and technical requirements.
The framework is intended to be used by key staff such as senior management, technical, manufacturing and logistics from producer companies, yet it could also be used by purchasers to assess suppliers.
The framework is designed to be generally applicable and extendable with release 1.0 targeted at the consumer product category. Follow-on releases are expected to further add requirements from additional application domains.
John Moor, Managing Director of IoTSF commented "From the early days of the Foundation it was clear that a great deal of remedial work was necessary to help companies that are new to connected products accelerate their understanding of security and provision appropriate measures into their products and business processes. We therefore mandated a working group to look at a self-certification process that was flexible, comprehensive and fit for purpose over the longer term. After an intense period of working, we are delighted to publish the very first release of that work".
Pamela Gupta, President of Outsecure Inc., and chair of the self-certification working group said "IoT is very broad and its security is not only context dependent, it is also evolving on a daily basis. Given the immediate requirement and future objectives of the self-certification scheme, we concluded that we needed to establish a risk based framework which could then be built upon and updated to address emerging risks and requirements. We decided to target a baseline framework release and issue updates that could track the evolution of applications and threats. We've met the time table for Release 1.0 and now invite industry to start using it and give us feedback in the spirit of continuous improvement for future releases".
John Haine, Chairman of IoTSF said, "I'd like to commend all the contributors to the framework, especially the participants of the working group, for working hard to achieve the brief we gave them and in a timely manner. Poorly secured IoT devices are low hanging fruit for hackers and offer a wide range of attack types such as denial of service and extortion through malware. This is just the beginning and given what is at stake for citizens and society it is not surprising that more voices are calling for regulation, which now seems inevitable. The compliance framework is a well-designed and practical approach that companies can adopt to take care of matters right now and position themselves for future eventualities. We therefore strongly encourage industry to start using the framework with immediate effect and engage with us to help ensure it remains future-proof and fit for purpose".
The IoT security compliance framework is free to download and use from the IoT Security Foundation website at https://iotsecurityfoundation.org/
About the Internet of Things Security Foundation (IoTSF)
The mission of IoTSF is to help secure the Internet of Things, in order to aid its adoption and maximise its benefits. To do this IoTSF will promote knowledge and clear best practice in appropriate security to those who specify, make and use IoT products and systems.
IoTSF promotes the security values of a security first approach, fitness for purpose and resilience through operating life.
IoTSF was formed as a response to existing and emerging threats in Internet of Things applications.
IoTSF is an international, collaborative and vendor-neutral members' initiative, driven by the IoT eco-system and inclusive of all parties including technology providers and service beneficiaries.
For more information, news and further announcements, visit the official website at www.iotsecurityfoundation.org