Collaboration to transform security of the Internet of Things
---
Release date: 5th December 2016
The IoT Security Foundation (IoTSF) and the prpl Foundation, two influential not-for-profit organizations working to promote security and openness in the Internet of Things (IoT), today announced that they have entered into a formal agreement to cooperate on projects that put 'security by design' into the IoT.  One element of the collaboration, around the IoTSF Self Certification Working Group, will be discussed tomorrow in London at the IoTSF Conference 2016 entitled Building an Internet of Trust.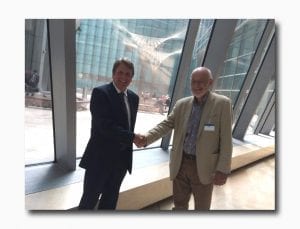 "With digital and communications technologies permeating all aspects of modern life, the IoT is considered by many to be the next evolution of the Internet," said John Moor, Managing Director of the IoT Security Foundation. "Yet there are many challenges ahead and industry must work together to agree on ethics as well as standards.  Both IoTSF and prpl agree that security must be forged into the design of embedded computing devices and therefore collaborating on joint projects and complementing each other's work can only be viewed as a positive for society as a whole."
IoTSF members will be invited to participate in the prpl Security and Virtualization Working Group which explores the application of hardware virtualization to create security by separation at the most basic level: the hardware itself.  prpl members will be invited to take part in the IoTSF's Self Certification work which is focused on determining a comprehensive security assurance framework for firms throughout the IoT supply chain and accessible to all.
"The prpl Foundation and the IoTSF share a belief that security is a fundamental requirement to the enablement and adoption of connected devices," said Art Swift, president of the prpl Foundation.  "We are delighted to work together to advance the many aspects of IoT security to make its widespread use less risky so consumers can use the IoT to its full potential – safely."
Both parties will work continually to increase the span of influence and establish a "supply chain of trust" in which all IoT stakeholders can play a part towards creating a more secure IoT. This will be achieved through mutual cooperation and participating in each other's closely aligning projects and working groups as well as industry events and activities.  The organizations have also agreed to work to a mutually agreed code of ethics based on trust and collaboration.
"As a participant in both prpl and IoTSF, I look forward to the progress that we can help make towards securing connected devices at a time when it has never been more important," said Majid Bemanian, Director of Networking & Storage, Segment Marketing at Imagination, who sits on the Board of Directors for the IoTSF and co-chairs the Security Group at the prpl Foundation. "As an industry, we are on the cusp of a crucial tipping point, so the time is now to leverage the power of open source and community collaboration to make security an instrumental aspect of IoT from SoC inception to full operation, rather than an afterthought."
The IoTSF Conference 2016 will take place on Tuesday, 6th December at the IET Savoy Place in London.  Cesare Garlati, chief security strategist for the prpl Foundation will give a technical talk entitled "In Silicon we Trust: How to Fix the Internet of Broken Things"; and Art Swift, president of the prpl Foundation will take part in a panel discussion called "United We Stand; Addressing the Bigger Challenges of IoT Security with Collaboration".
---
Photo: prpl Foundation President Art Swift (on the left) and John Haine, IoTSF Chair of Executive Steering Board (on the right).