13 November 2019: Signify has been announced as the 2019 IoT Security Champion of the Year by the IoT Security Foundation. Signify, is a global provider of lighting solutions and was previously known as Philips Lighting.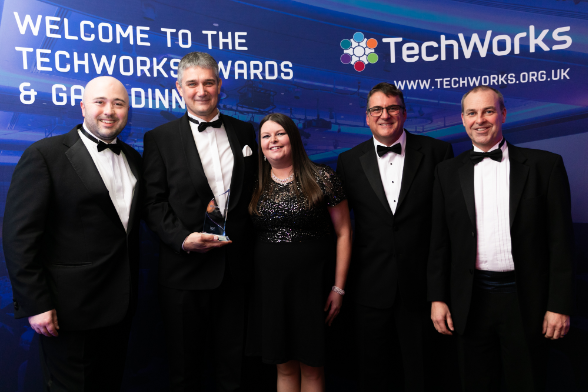 Pictured (left to right) Tom White Paratus People, Zsolt Angyal Signify, Jenny Devoy IoTSF, Alan Banks TechWorks,  John Moor IoTSF
The award was presented by the British author and speaker Penny Power, OBE at the TechWorks Annual Awards ceremony held at the prestigious Royal Garden Hotel, London. This is the second year in which the award has been run with shortlisted companies Payatu (India) and VDOO (Israel) being commended by the award judges for their efforts to improve cybersecurity in IoT beyond their own products and services.
John Moor, IoTSF Managing Director added "It's truly a great honour to present this award to a company we know well at IoTSF. Signify has security in their DNA and has invested in its leadership, in its engineering teams and, of course, their products. This means they live the behaviours of a good champion – protecting their customers and the wider connected network. On behalf of the Foundation and the judges I would like to say 'congratulations Signify!'".
The IoT Security Champion Award is part of an on-going range of activities of IoTSF, designed to raise awareness and propagate cybersecurity best practices throughout industry, shape the policy debate, encourage investment and influence security-minded purchasing.