We're delighted to announce that applications for the prestigious IoT Security Foundation's Champion Award are now open and we're inviting you to apply.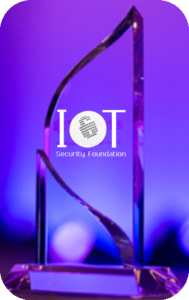 What's the award for?
The IoT Security Foundation Champion Award celebrates exemplars of the security-minded organisations as part of its mission to 'make it safe to connect'.
Who can apply?
OPEN TO ALL: This award recognises organisations which demonstrate IoT cybersecurity stewardship. It is open to all organisations which either develop IoT products OR act as a retailer or distributor OR deploy and use IoT in their business operations for productivity/efficiency gains or enabling an innovative service.
Phew… that's a heavy sentence – we did say 'open to all'.
How do I apply?
Applications are submitted online: It's a simple process and is FREE to apply – click the 'Apply Now' link in the side bar.
Why apply?
Is IoT cybersecurity important for your business? For your customers?
There's a lot of good reasons why you should apply but the biggest reason is to raise your profile with customers, associates and maybe within your own organisation. We know that prior winners have been identified in analyst and government reports – people take notice.
Did we mention it's a simple application process and totally free too? IoTSF is a non-profit organisation and our motivation is to highlight and reward good exemplars where we find them. Could this be you?
What else?
The winner will be announced on Thursday December 9th at the TechWorks Annual Awards Ceremony taking place in London – we hope to see you there.