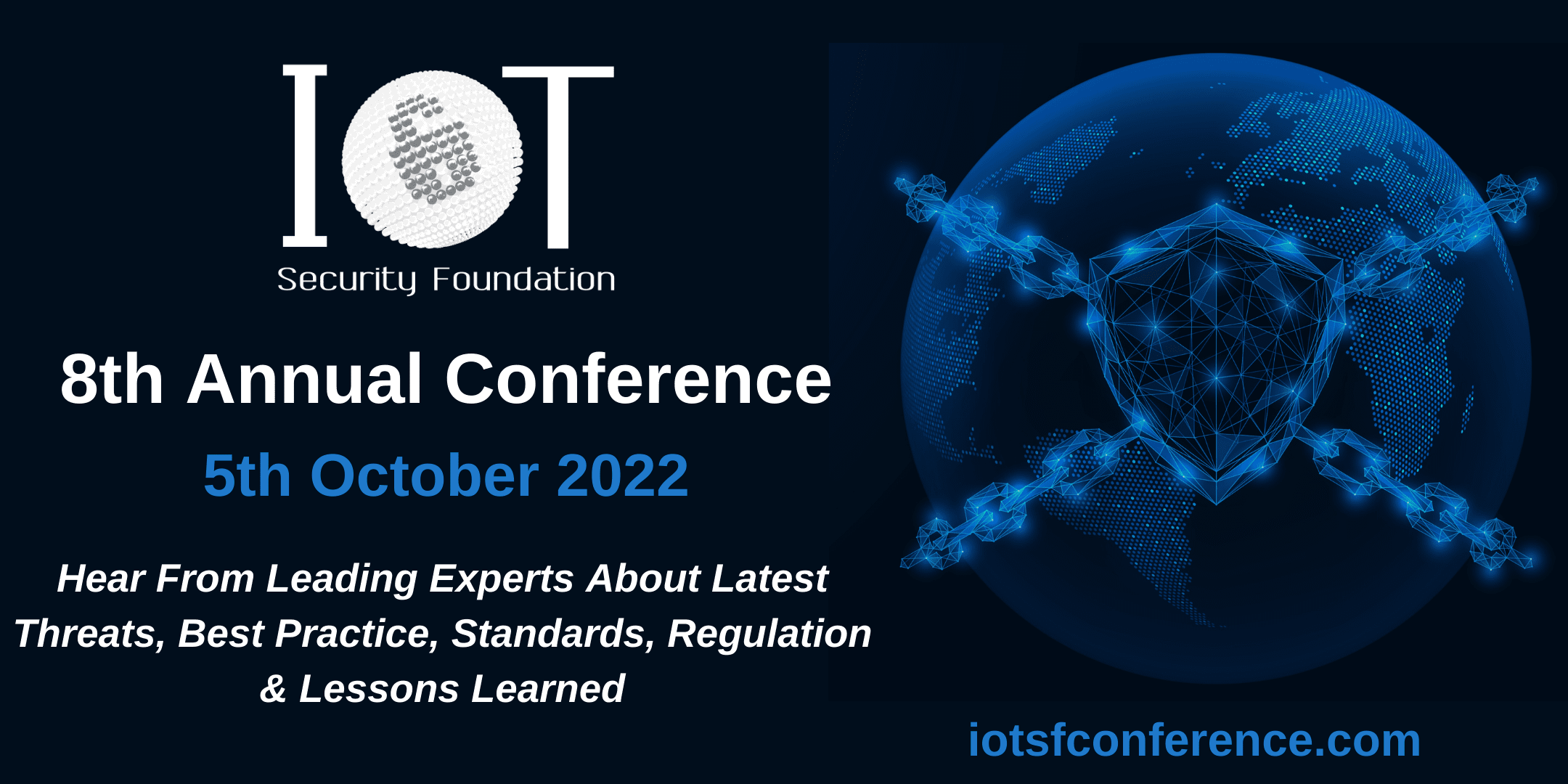 We are looking forward to welcoming you to the IoTSF Annual Conference on October 5th
But what can you expect?
On offer this year are leading speakers from across the IoT Security field and great opportunities to meet people from across the sector during the day, at the drinks reception and the networking dinner.
The conference starts with a main stage session on the future of security.  This session will commence with 2 keynote talks covering the technology outlook and business perspectives. It will then move into a panel session where we will discuss what industry needs to do to ensure we are fit for the future. After the break, from 11:00 to 12:30, we have a delectable choice for you between a session on IoT Security Risk Management, Product and Systems Security and Applied IoT Security Case Studies. Each will be chaired by a leading member of the IoTSF with several speakers and takes us up to lunch. All will certainly consider highly significant topics and we capture some of those here!
Track 1: IoT Security Risk Management
In an increasingly connected environment, it is vital that new IoT capabilities are secure and do not pose business or enterprise-wide risks. This session explores the strategic, preventative and real time response mitigations necessary to enable the growing use of IoT.
There are so many IoT devices but how many do we have? How can we identify them and manage their vulnerabilities? What is the business approach for SMEs and large enterprises? Examples of major incidents and real time solutions explored,
What are the attacker's perspectives? – exploits of vulnerabilities and patch management problems – alternative solutions focus on prevention. Practical insights into smart devices and what these look like in the business environment. How can these be attacked? Demonstrated by leading academic research. What are the privacy and security implications of high volumes of IoT data leaks and the proposed solutions? COULD a strategic teaming approach help you look at the risk and latest trends from the perspective of all your key stakeholders? What are their responsibilities and how can an effective response be ensured?
Sound interesting? Well, the alternatives are equally good.
For those who want to know how to best secure products and systems we believe that collaborative approaches to secure by design are vital. In this session we explore many ways to achieve best practice to keep the attackers out of your network.
Track 2: Product & Systems Security
Most of the home routers and small business gateways we use today are vulnerable and the devices they manage may have little or no security as well. The picture becomes more complicated when we include devices like wireless extenders, smart speakers, webcams, and applications on the network that have other pathways to the internet. What is the best way to reduce these risks in the future?
The session explores new advances in gateway and network security which consider the future and how to secure devices and systems using real time automated monitoring. We'll be asking how devices get on the networks securely, who and what is on your network, how will you know what is happening and how can you control suspicious behaviour?
We'll look at the value of zero trust, continuous multifactor authentication, collaboration, and onboarding. We'll explore the hardware foundations and the importance of secure boot and how to successfully deploy this. How can you effectively update the system, and comply with regulation? Finally, all these elements are brought together in a holistic and intelligence-based approach which draws on the collaborative work of established teams in the field of gateway security to provide the basis for a new standard.
Your third choice, if you are more concerned about how IoT Security impacts connected places and critical national infrastructure (CNI) is on Applied IoT Security Case Studies.
Track 3: Applied IoT Security Case Studies
IoT Security impacts connected places from buildings, vehicles and factories to airports, critical national infrastructure and smart cities. The complexity of systems and volume of devices makes this a challenge to secure. What can be done to manage the risk and keep these environments operational and resilient?
This session explores the challenges of securing IoT in large scale settings including buildings, vehicles and critical national infrastructure. What are the challenges faced by senior management? What are the risks of applied IoT security at scale? How can these complex systems be attacked and protected? Attention will be given to the importance of collaboration across the business to understand the cyber physical risk and the need for real time automated risk management. There will also be an in-depth look at case studies including buildings and drones. Can we achieve resilience? Solutions including a new look at systems configuration and stronger protective solutions for these environments promise a resilient connected future.
We hope this gives you an idea of what to expect and helps you choose a morning session. Following the lunch break we have the afternoon tracks. More details to come soon! At the end of the day, we have a drinks reception and a networking dinner where we know you will enjoy great food and networking with friends, old and new! So, sign up soon and don't miss this fabulous event – with education and friendship combined.
Please get in contact with us for more details including some great sponsorship opportunities.
James Willison and Jenny Devoy – IoTSF Conference Planning Committee