The IoTSF conference is the longest running event focused on IoT security and without question attracts the best speakers and key stakeholders on the subject from across the globe. This year is no exception with leaders from Governments, large organisations, SMEs, and vendor solutions to manage the IoT security risk. All play a crucially important part to ensure the real time risk of IoT is identified, analysed, and responded to so the organisation can continue its operations in a fast-changing digital environment.
We are planning the agenda and delighted to reveal there will be many talks on issues which are of significance to the public and private sectors, senior executives, security leaders, technical specialists, solution providers, media, legal, building owners, facilities managers, and academics, to name but a few!
We will consider the future of IoT Security and computing with the rise of Smart Cities and connected places. These environments provide the real-world risk scenarios for IoT, and we will hear from different speakers on their perspectives. We will also explore the issue of securing the IoT supply chain with experts who contributed to the new white paper the IoTSF published in June. This in-depth work is one of the first papers to discuss the challenges of the supply chain and provide practical guidance and questions we need to ask when assessing the risk.
We will also see the fruition of the manysecured project which we believe will make a real difference to the security of routers and the networks they manage. It is a truly collaborative approach to the risk of remote attacks on homes and SMEs and we will share best practise and significant solutions which have gained the support and attention of NIST and leading ISPs including BT and Vodafone.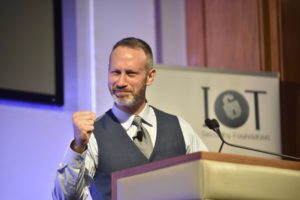 The day will feature applied IoT Security scenarios from a variety of sectors including Smart Homes and Critical National Infrastructure. Some talks will focus on technical aspects of IoT Security and others will consider the new legislation around IoT, SBoMs and the impacts on the business. We round the day off with a panel discussion by leading CISOs who will consider the challenges of the management of enterprise IoT security risk and how best to respond in an ever-increasing complex environment.
After a day of high-level content from leading international speakers we will celebrate the end of the conference with a drinks reception and an executive networking dinner where you can enjoy the company of good friends and food in a convivial and relaxing atmosphere. Many of you already know how important this conference is, as it provides a range of high-quality content on all matters relating to IoT security. We look forward to welcoming old friends and new, confident that all can be assured of new opportunities, and developing existing ones.
A warm welcome to you all from the IoT Security Foundation Conference Committee
Jenny Devoy: Head of Membership Engagement, IoT Security Foundation & TechWorks
James Willison: Project and Engagement Manager, IoT Security Foundation